Available now or coming soon on Amazon
Looking for a fun and satisfying read that's sexy without being too explicit? Then I've got some stories for you!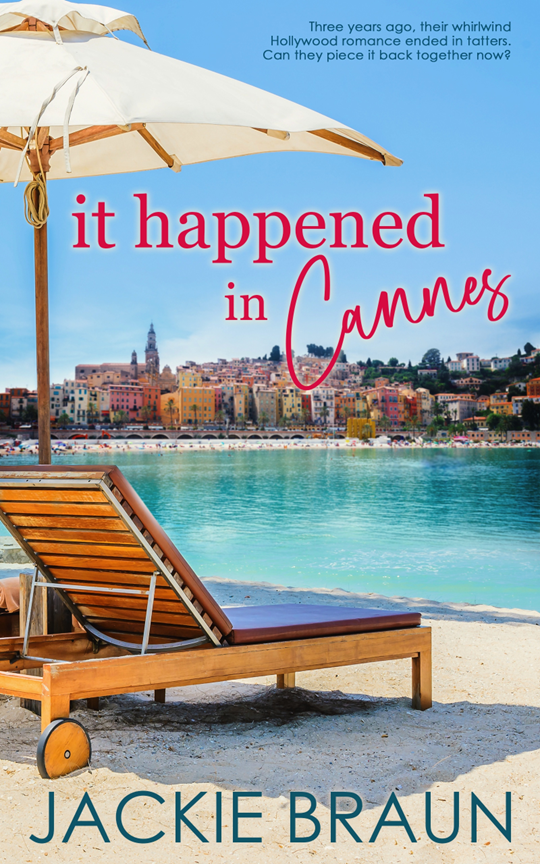 It Happened in Cannes
Out now in print and ebook!
Hotel heiress Tempest Herriman has changed a lot since her wild child days made her an internet sensation. Even so, not many people, including her former boyfriend, are willing to give her the benefit of the doubt. She wants to be taken seriously as an actress, but she can't even score an audition for her dream part now that her A-list actor ex has taken on the role of director.
Colin McKinnon can't get tangled up with Tempest again. After directing this movie, he has plans that go beyond Hollywood. Political ambitions that go all the way to Washington. He can't afford to attract the paparazzi and bad press that always swirl in Tempest's wake.
But after a not-so-chance meeting at the Cannes Film Festival ignites old passions, some of which are caught on tape, will what both of them thought they wanted be less important than what they could have together?
Buy Now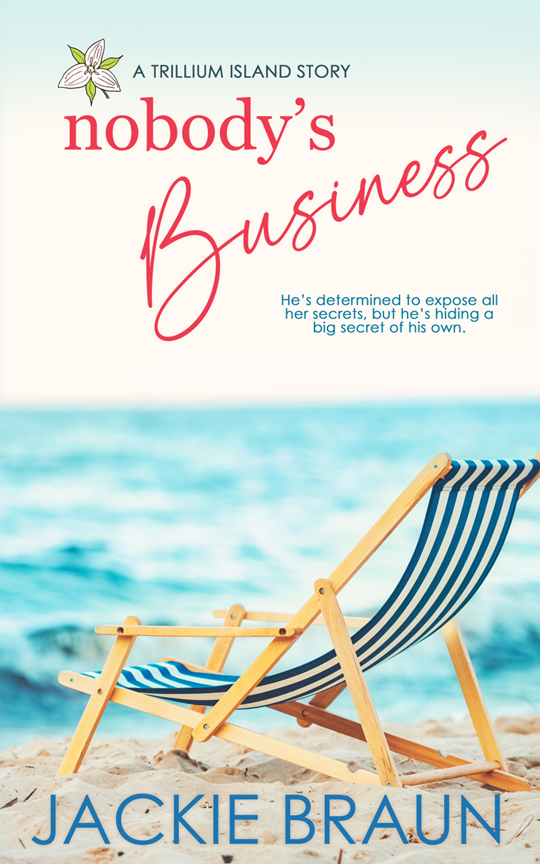 Nobody's Business
A Trillium Island story Book One Coming in the fall 2023!
Paparazzi favorite Audra Conlan isn't known for her acting ability. She owes her fame to being outrageous. But after a near-death experience, she vows to drop out of the public eye, reconnect with her estranged family and clean up her act. She's made a mess of her life. It's time to own up to her poor choices, especially where men are concerned, and make amends.
Photographer Seth Ridley blames Audra for his family's tragic demise. He doesn't buy for one minute her alleged transformation. Camera in hand, he followers Audra to her tiny hometown of Trillium Island, planning to capture more of her patented bad behavior for an upcoming tell-all book that is sure to expose her to public ridicule and make her a pariah in Hollywood. Maybe then she will finally pay for what he believes to be her part in the accident that cost him everything. But the woman he befriends under false pretenses and then captures in pictures is as surprising as she is beguiling, and nothing at all what he was expecting.
The fragile feelings that begin to bubble up between them are nobody's business, but with a deadline looming, can they survive the truth?
Buy Now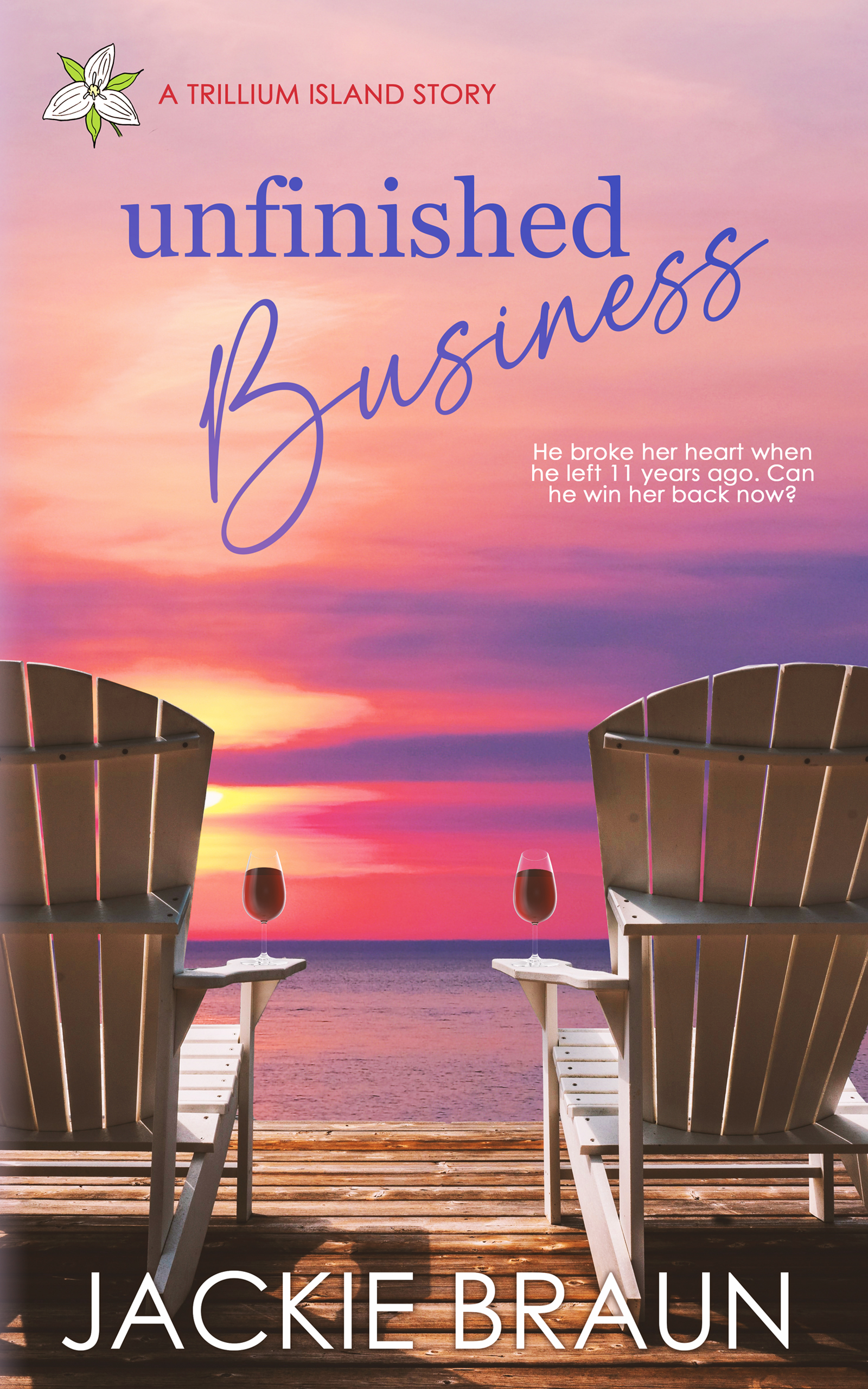 Unfinished Business
A Trillium Island story Book Two Coming in the fall 2023!
When bad boy Luke Banning left Trillium Island more than a decade earlier, he broke a young Ali Conlan's heart. Now he's back as an investor in the resort Ali and her two siblings own and want to expand.
Ali is determined to keep things from getting personal with Luke. After all, the man being hailed as Entrepreneur of the Year isn't likely to trade in his Manhattan penthouse and glamorous lifestyle for the small island community that once judged him so harshly. The sensible thing to do is to guard her heart so he doesn't break it again. Luke has made a name and life for himself in the Big Apple. The slow pace on tiny Trillium can hardly compare to the megawatt brilliance of the city that never sleeps. But coming back has stirred up a lot of memories and emotions. And most of them have to do with Ali Conlan.
She isn't the naive girl he remembered. She's grown into a smart, savvy businesswoman. A woman Luke can't stop thinking about. But what will the future hold when the business between them is finished?
Buy Now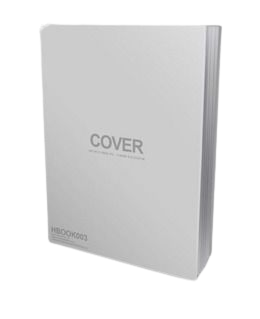 Strictly Business
A Trillium Island story Book Three Coming in the fall, 2023
Neither Regina Bellini nor Dane Conlan is looking for love, but when they meet by chance on an inhospitable night, it's impossible to deny their instantaneous attraction. It flashes as intensely as the raging electrical storm that capsized his boat and left him bobbing in rough waters until he spied the lights of Regina's Peril Pointe home.
As right as it feels, the timing couldn't be more wrong. Regina is about to lose her beloved Victorian and neither she nor Dane is in a position to start a new relationship. At least not a romantic one.
Left with no other option, Regina approaches Dane and his sisters with a proposition to turn her lovely Victorian into a bed and breakfast as part of the resort they own on Trillium Island. When they accept and hire Regina on to help with the restoration, it's an answer to her prayers. There's only one problem and it's a big one. Can Dane and Regina keep things between them strictly business?
Buy Now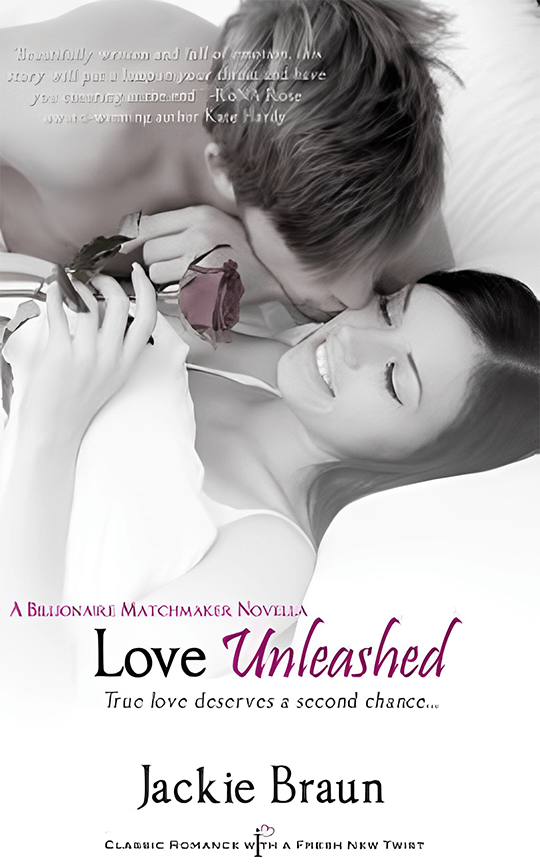 Love Unleashed
A Billionaire's Matchmaker Novella
True love deserves a second change…
The last thing Mia Andale wants is a relationship, yet the headstrong florist can't keep her hands off her sexy-as-sin ex-boyfriend. Will she open her heart before he leaves town for good?
(One of four novellas by different authors featuring a feisty four-legged matchmaker named Charlie. Each story, sold separately, stands alone. Published by Entangled Indulgence.)
Buy Now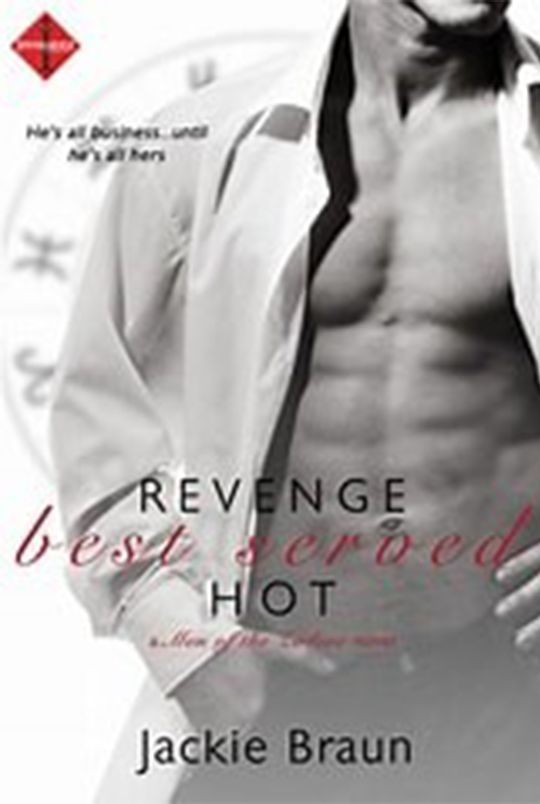 Revenge Best Served Hot
(Men of the Zodiac, book six) Revenge is a dish best served cold, but this Virgo is sizzling hot…
Brody Flynn has waited more than a decade to get his revenge on the shipping company he blames for his parents' deaths. Now that company is fumbling, profits are down, and it's the perfect time for a hostile takeover. But the former CEO's daughter has other plans...
Kate Douglass is determined to hold on to her birthright and prove to her family that she's not the fragile piece of glass they all think she is. There's no way she'll give up without a fight. All she has to do is convince the gorgeous new CEO to hire her...and not fall for him.
Brody never planned on how badly he'd want the daughter of his enemy. Or that his hunger for her might just burn hotter than his desire for revenge...and only one can win out.
(Each book in the Men of the Zodiac series is a standalone written by a different author. Published by Entangled Indulgence.)
Buy Now
Rather listen than read? These books by Jackie Braun are also available in audio.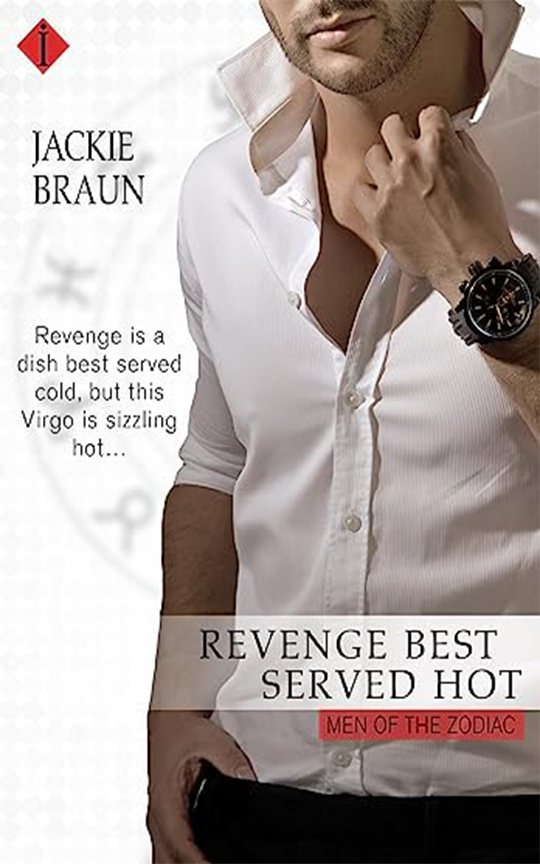 Revenge Best Served Hot
Revenge is a dish best served cold, but this Virgo is sizzling hot…
Brody Flynn has waited more than a decade to get his revenge on the shipping company he blames for his parents' deaths. Now that company is fumbling, profits are down, and it's the perfect time for a hostile takeover. But the former CEO's daughter has other plans...
Kate Douglass is determined to hold on to her birthright and prove to her family that she's not the fragile piece of glass they all think she is. There's no way she'll give up without a fight. All she has to do is convince the gorgeous new CEO to hire her...and not fall for him.
Brody never planned on how badly he'd want the daughter of his enemy. Or that his hunger for her might just burn hotter than his desire for revenge...and only one can win out.
Buy Now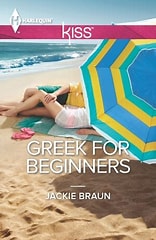 Greek for Beginners
Alpha, beta, gamma, delta… That's just about the extent of Darcie Hayes's Greek before she touches down in Athens, ready to put her troubles behind her and indulge in a little sun, sea, sightseeing and…er…flirtation! But when Nick Costas, modern-day Adonis, saves her from a con man, she begins to think there might be more to Greece than meets the eye…
Nick is perfectly happy with his single status, but meeting Darcie makes him wonder if falling in love really would be the worst thing in the world. Is Nick actually considering pushing this thing with Darcie past the beginners' stage and on to advanced?
Buy Now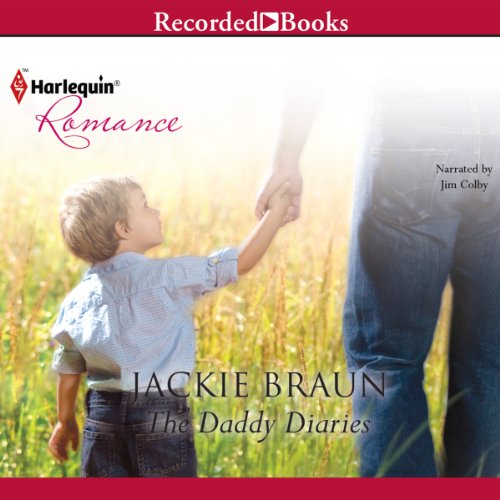 The Daddy Diaries
I'm a former cop, out of the rescue business for a long time now. Still, I couldn't leave Caro Franklin stranded in a snowstorm. Even if bringing that beautiful lady to my home meant my family - and yes, maybe I, too - would immediately fall in love with her. So we just met. We still have …something.
In spite of those "family obligations" of hers that I don't fully understand, there's no denying what's between us. No denying that I could make the perfect father for her son. Now I just have to convince Caro to choose me....
Buy Now